Guide: How to Spot Fake Chinese Silver Pandas on eBay
April 19th, 2020
For many of us who collect Chinese silver Pandas, turning to eBay to obtain previous years coins is a viable option. However, eBay has a problem with counterfeit Chinese Silver Pandas. While many of the fake silver Pandas are well produced and not easy to identify, this guide will help you to spot fake Chinese Silver Pandas on eBay and also how to determine if the Chinese Silver Panda you ordered is authentic when it arrives at your door.
How to Spot Fake Silver Pandas on eBay.
When purchasing anything off eBay it's good to follow simple procedures to ensure you are buying from reliable sellers. However, with Chinese Silver Pandas it is important to follow the guidelines below.
Check the Plastic Capsule for Three Nibs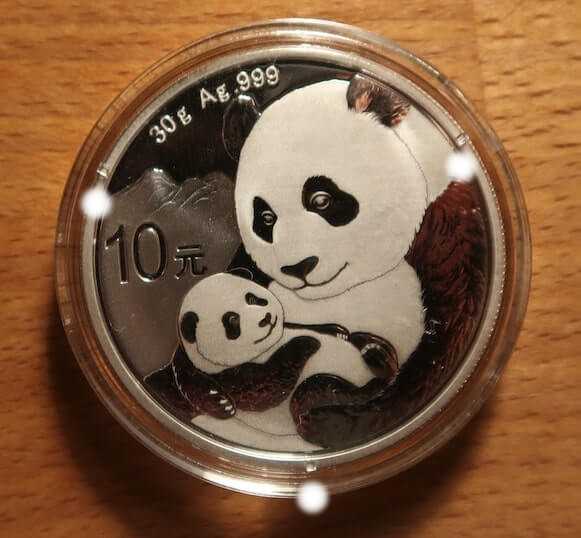 An authentic 2018 Chinese Silver Panda in original capsule with three nibs above the white markings.
Authentic Chinese Silver Pandas come encapsulated in cases from the Chinese Mint that have three nibs on one of the sides of the plastic coin capsules to give the coin a bit of space, so the face of the coin is not tightly pressed against the plastic. When buying Silver Pandas on eBay make sure the seller has an actual image of the coin you are purchasing.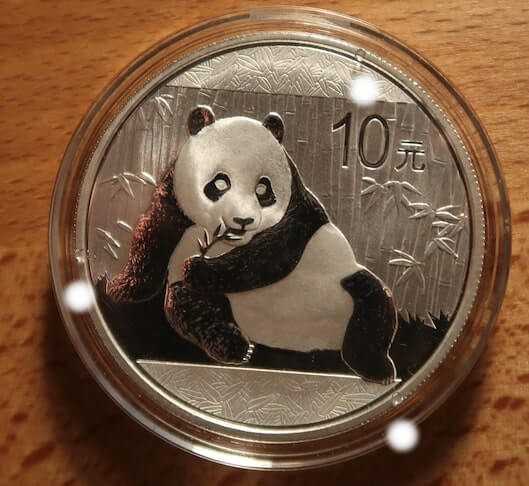 An authentic 2015 Chinese Silver Panda in original capsule with three nibs above the white markings.
counterfeit silver Pandas are thicker than authentic silver Pandas and as a result are encapsulated in plastic cases that do not have these three nibs. It is worth noting that this may not be a valid method with recent silver Pandas, as the 2020 Chinese Silver Pandas do not come with the three nib plastic case. However, as it stands, the plastic capsule is a good indicator for previous year silver Pandas, as a counterfeit silver Panda is too thick to fit in an authentic plastic capsule with three nibs.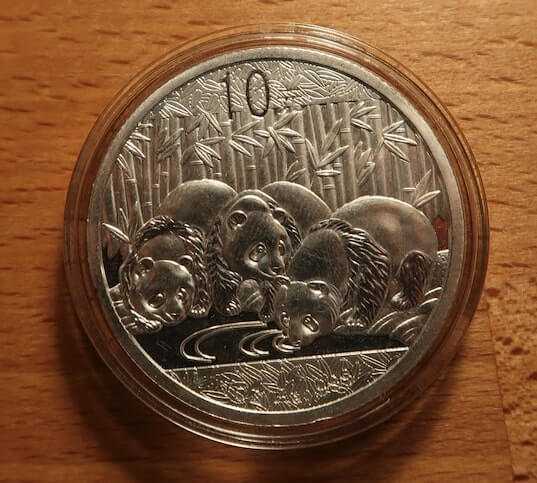 Above: A counterfeit 2013 Chinese Silver Panda purchased from eBay with no nibs.
Above: An authentic 2020 Chinese Silver Panda in original capsules with no nibs.
Counterfeit Silver Pandas Often Come with a Peoples Bank of China Case & Certificate of Authenticity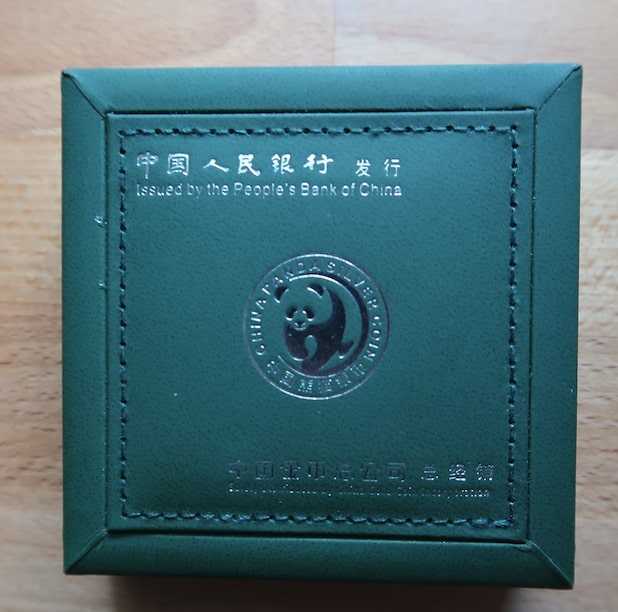 Above: A Peoples Bank of China coin case that came with the purchase of a counterfeit Silver Panda from eBay.
Below: A certificate of authenticity that came with the purchase of a counterfeit Silver Panda from eBay.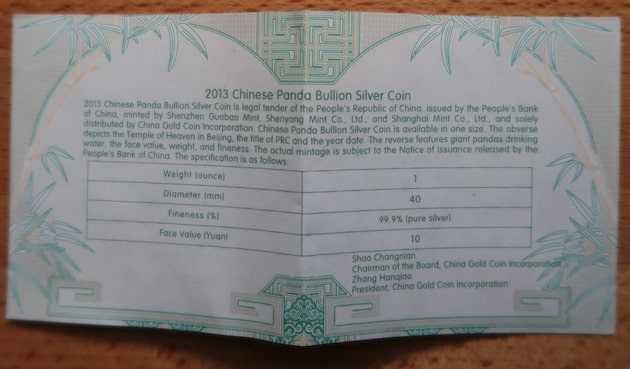 While most mints sell their coins in tubes, the Chinese Mint sells silver Pandas in sheets of 15 encapsulated coins. When sold individually they do not come in any extra packaging, aside from the plastic capsule. Many eBay sellers pushing counterfeit silver Pandas include a green box issued by the People's Bank of China along with a certificate of authenticity with the coin in a plastic capsule sealed in plastic wrap. This is a method to convince the purchaser that the product they are purchasing is authentic. If the seller is including a green box be cautious. Be sure to ask for a close-up picture of the silver coin if it is included in a green People's Bank of China box.
Above is a video of a sheet of authentic Chinese Silver Pandas.
Check the eBay Sellers Products & Feedback
Check the eBays sellers' feedback, location, and other listings. Sellers of counterfeit silver Pandas sell many inexpensive trinkets and items to receive positive feedback and reviews to build credibility and rating. If none of the sellers' reviews are related to selling silver Pandas be cautious. Make sure the seller uses an authentic photo. These sellers typically originate from China (and to a lesser extent Hong Kong). Chinese sellers who do not specialize in coins and silver on eBay, and do not have any positive feedback related to Chinese Silver Pandas require extra caution.
Counterfeit sellers on eBay will usually have the silver Panda in question on a 7-day auction that already has several bids, trading at just around or slightly above the current spot price of silver. This convinces the potential buyer that they are getting in on a good deal and to act fast, when in fact, the previous bids could be from alternate eBay accounts already connected to the seller. Be careful of auctions ending soon that are too low in price compared to other Pandas of the same year and quality; this is a red flag. If it's too good to be true it usually is.
Tip Before Buying Silver Pandas on eBay
Make several silver purchases from trusted, established eBay sellers and leave positive feedback, and hope that the seller leaves positive feedback as well. This way, in the future, if you do purchase silver Pandas that turn out to be counterfeit your previous purchases and feedback will help you seem like a legitimate buyer who is familiar with authentic silver coins and bullion.
I Bought Fake Silver Pandas on eBay. What do I do?
If you do end up making the mistake of buying fake silver on eBay do not worry. Contact the resolution center immediately and let them know that the product you purchased was not as described and not authentic. Let the seller know the product you received was not authentic as well and that you opened a dispute against them. The seller, in my case asked if I tested the coin, and to see the analysis. When I stopped communicating with him, the seller then offered to refund me half the purchase price. I Obviously refused as the counterfeit coin is of no value.
Below: Several message exchanges with a counterfeit seller.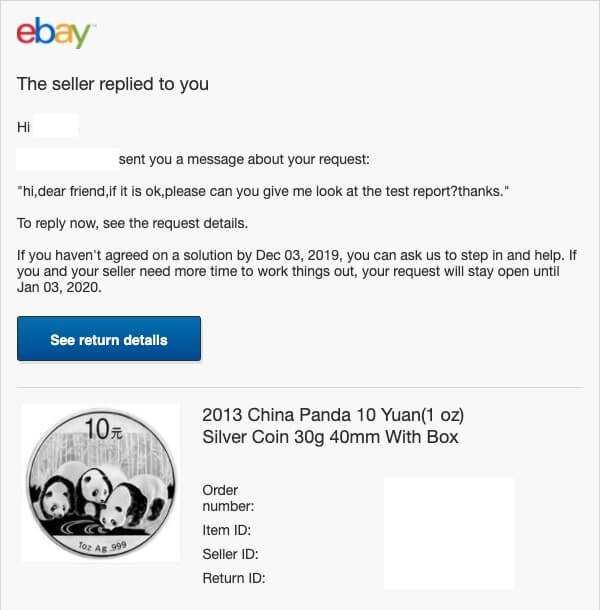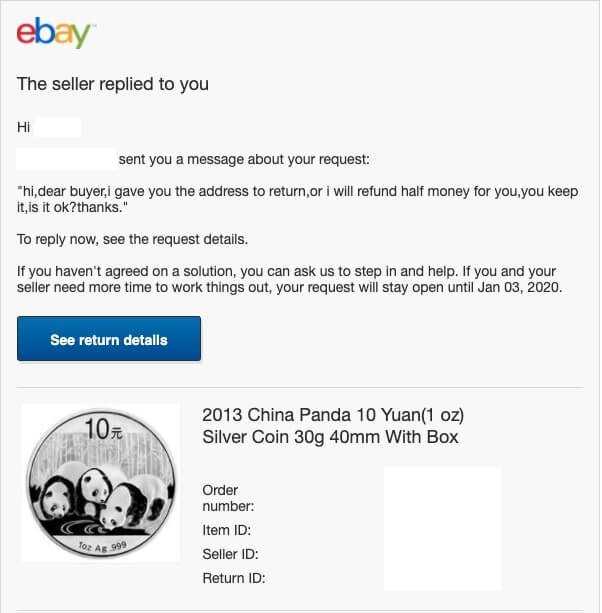 Above: Notice the attempt by the seller to refund me half the purchase price.
How to Check if a Chinese Silver Panda is Authentic or Counterfeit.
Above: A video which uses the same coins in images below comparing the counterfeit to genuine coins.
---
1. Counterfeit Chinese Silver Pandas: Obverse Side
The obverse side of a silver Panda displays the "Temple of Heaven" in the center of the coin surrounded by a mirrorlike finish which represents the sky. A counterfeit silver Panda on the obverse side will show your reflection very clearly on the mirrorlike finish, similar to an actual mirror. Pure silver, while highly reflective will not display a clear reflection. On an authentic silver Panda, the mirrorlike finish will not be sharp. The "Temple of Heaven" should have very fine details. Notice how the counterfeit silver panda does not have the frosting look around the edge of the coin.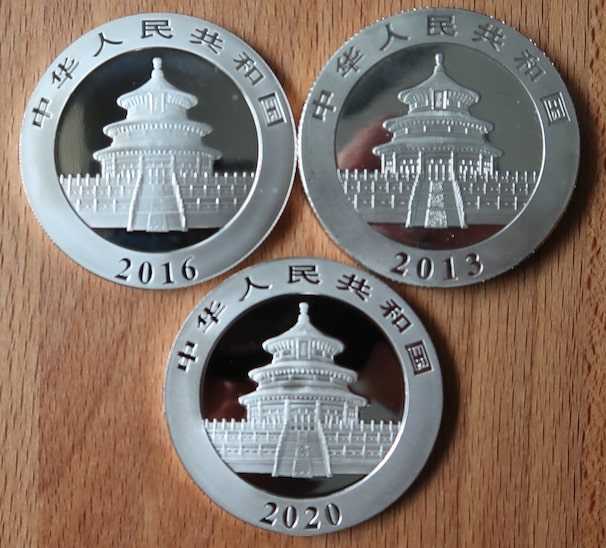 Above: A 2013 counterfeit Chinese Silver Panda does not have the same quality frosting as the authentic silver Pandas and has a mirrorlike reflection that is too clear to be authentic.
2. Counterfeit Chinese Silver Pandas: Reverse Side
Every year the design on the silver Pandas reverse side changes. The pandas that are displayed on counterfeit coins do not have a distinct differentiation between the white and black fur of a panda when held at an angle. Authentic silver Pandas when held at an angle will display a very distinct mirrorlike finish to represent the black fur and a frosted finish to represent the white fur. On older silver Pandas (pre-2000) this method of determining counterfeit is not possible as the quality of the Chinese Mint did not have this distinctive feature until the 2000 Silver Panda and onwards.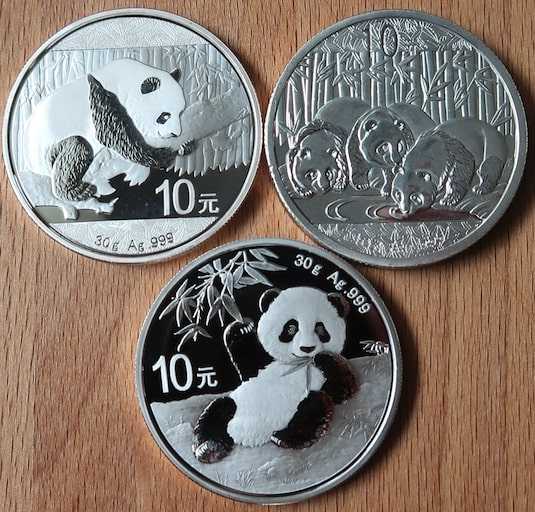 Above: A counterfeit Chinese Silver Panda does not have the same frosting and shine to properly represent the fur of the black and white panda like the authentic Chinese Silver Pandas do.
3. Counterfeit Chinese Silver Pandas: Weight
When Chinese Silver Pandas were first introduced in 1983, they weighed 27 grams of 0.900 silver, and over the years have changed in weight and fineness. For details about the history click here. What is important to note is that prior to 2015, silver Pandas weighted 1 troy ounce. In 2015, the weight was not marked on the coin, and the following year, in 2016, and onwards the silver Pandas were minted with 30 grams of pure silver instead of 31.1 grams. Counterfeit silver Pandas will generally be less than 30 grams when weighed on a scale.
The above video displays the difference in weight between an authentic 2018 silver Panda and a counterfeit 2018 silver Panda.
4. Counterfeit Chinese Silver Pandas: Dimensions
Modern Chinese Silver Pandas have a diameter of 40mm with a thickness of 2.98mm found here. As the images below illustrate counterfeit Chinese Silver Pandas have a larger thickness, as silver is denser than iron and copper. An article written by the NGC, an authority on coins wrote an interesting piece on the subject found here.
Above: An image of a 2013 counterfeit Chinese Silver panda between two authentic Silver Pandas. Notice the extra thickness of the counterfeit
Summary
By following the above guide, buying Chinese Silver Pandas on eBay and checking their authenticity when they arrive should be easy. Silver Pandas make a great long-term investment in coins for their unique design and high quality silver.