Top Collectible and Rare Silver Bars To Watch For
May 11th, 2020
---
The below references an opinion and is for information purposes only. It is not intended to be investment advice. Seek a duly licensed professional for investment advice.
---
Let's take a look at the most collectible silver bars from Mints around the world to add to your collection. This list examines rare, and vintage bars that are highly sought after and would make a great addition to any silver collection.
1. Engelhard Silver Bars
Every silver stacker is aware of Engelhard bars; a former Fortune 500 company from the United States that was bought out back in 2006 to a German company. Engelhard had made silver coins and bars dating back to the 1970's (the iconic American Prospector rounds) and tend to sell easily on eBay and in local coin shops.
Above: A video of a silver stackers Engelhard collection.
The reason for the collectability is a combination of factors. First, Engelhard made a ton of varieties and limited runs for their bars ranging in size, font, and whether they were poured or cast.
Second, their collectability has separated them from the price of silver. Due to their rarity even if the price of silver falls, Engelhard bars still holds their premium quite well. This makes them an attractive purchase for 100oz. bars.
Third, the majority of their bars are serializable, giving collectors an idea of their rarity. Some collectors chase after fancy serial numbers (multiple or consecutive digits of the same number), adding value to the bar.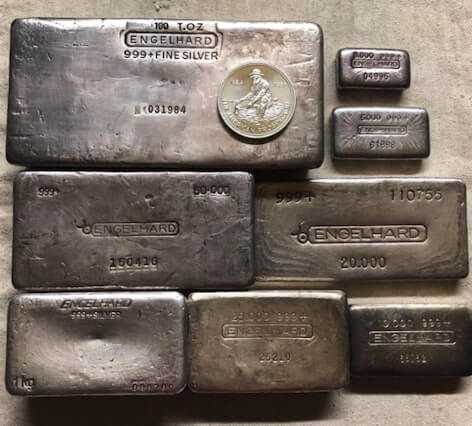 Above: A collection of rare Engelhard bars.
Lastly, Engelhard has silver bars that can be obtained without a high premium, allowing for all silver collectors to get in on the action. Don't forget about some of Engelhard's beautiful cooling lines from their poured bars, which collectors can not get enough of.
Engelhard's vast variety makes them not too difficult to find and determining if the ones you stumble across are highly collectible requires a bit of research; making the process fun. So much so that a website is dedicated to the research and preservation of everything Engelhard called allengelhard.com.
Finding Engelhard silver at estate sales and garage sales is rare, but happens in the United States, so keep an eye open for these highly collectible beautiful silver bars. It is worthy to note that due to Engelhard's high collectability, counterfeits have recently been found in the market. Always be cautious when buying silver.
Above: A video of a counterfeit and authentic 100 oz. Engelhard bar.
2. Johnson Matthey Silver Bars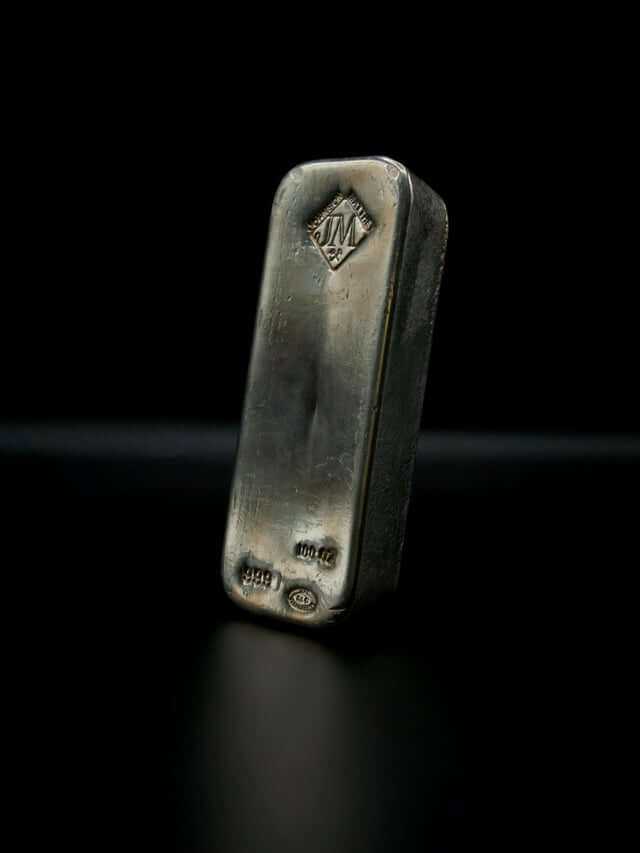 Above: A beautiful 100 oz. Johnson Matthey Bar. Photography by: Len Amon on Instagram at @millennialmetals
Johnson Matthey has been in the precious metals game for over two centuries and has helped make London the silver and gold hub in Europe. While their selection and variety of bars fails in comparison to Engelhard's, they still managed to maintain a cult following of silver collectors and also have something for everyone in all price ranges.
Johnson Matthey's most iconic bar would arguably be the 100 oz. bar, which is not rare or that expensive, but just so beautiful. It's size and shape are iconic; something you'd expect in a wild west movie.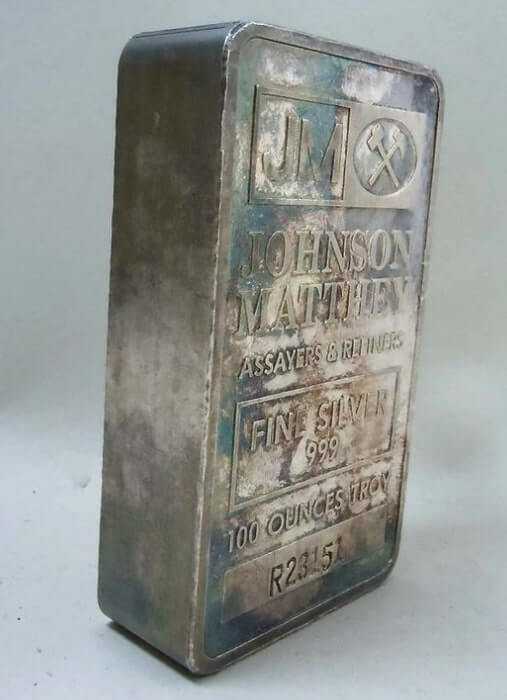 Above: A rare 100oz. Johnson Matthey Bar.
Many collectors chase after the low serial numbered 1oz. bars with the beautiful JM logo. Johnson Matthey also made bars for several of Canadas Major banks; Toronto Dominion Bank and The Royal Bank of Commerce.
Both of these bank bars can fetch quite a high premium on eBay and are quite collectible. The same can be said for their hand poured older bars which have a minimal design aside from the diamond logo with a J and M placed inside.
Always keep an eye out for these beautiful, highly collectible JM bars, as they can pop up in both North America and Europe and always hold their premium and are coveted by new and old collectors alike.
Above: A video displaying an Engelhard and Johnson Matthey silver collection.
3. Royal Canadian Mint Silver Bars
The Royal Canadian Mint also has a rich history dating back to the early 1900's and has been making silver bars since the 1980's. Since the Royal Canadian Mint bars are the only bars made from a National Mint, their sizes and varieties are much less in comparison to others on the list.
What is worth noting is their recent 10 oz. bars have become a favourite in the silver stacker community for its purity of 99.99% silver (most are 99.90%), along with its serial number. You see, currently most new silver bars do not come with a serial number, with the exception of a few.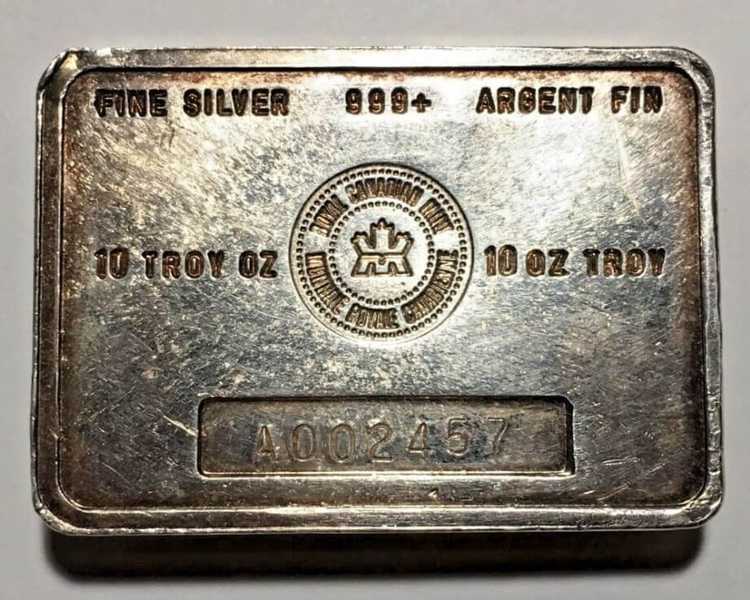 A vintage 10 oz. Royal Canadian Mint Bar
This feature makes their 10oz. bars highly collectible. Furthermore, their mintage numbers on an annual basis is quite low and tend to sell out fast at common online retailers.
This makes them a great investment for new stackers to get into a recognized silver bar which will appreciate in value rather quickly without the a hefty upfront premium.
Above: A video of a rare 10 oz. silver Royal Canadian Mint bar
4. W.H Foster Mint Silver Bars
Expect to pay a premium for these bars as they are very rare, expensive and their history is a bit murky. The general consensus is they were operational from 1968 - 1972 at which point they changed their name to Lewis and Clark Mint. More information about this interesting company can be found here.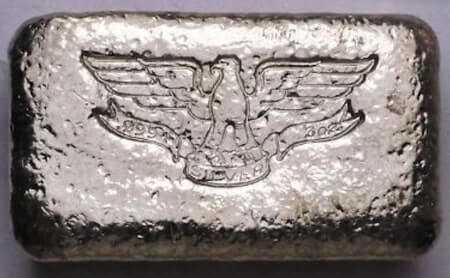 A rare Foster Mint bar.
Foster Mint bars are known for their simple design which consists of a eagle with spread wings. Their weights range from 1-10 oz. with everything in between. Their 3 oz. and 5 oz. bars are highly collectible and come with a hefty premium. If you have to add one to your collection you can find 1 oz. bars made in the early 1970's in the $40-50 USD range.
Sometimes you can find these rare bars in silver bins at local coin shops, where even the owner doesn't know what he has on his hands. See the video below.
A video showing some rare Fosters Vintage Silver Bars.
5. California Crown Mint (CCM) Silver Bars:
The California crown mint located in the US made highly collectible Kit-Kat style bars in the 5,10,25 and 50 oz weight, not much is available online regarding the mints history or dates of production. Most of these bars were produced in the 1990's and have a highly recognizable crown stamped on the bar.
Above: A video of a 5 oz. California Crown Mint Kit-Kat bar.
These rare bars have a very unique look and the manual work put into each bar makes them makes them quite beautiful. Furthermore, they appear much older than they actually are, based on their design and look of the crown.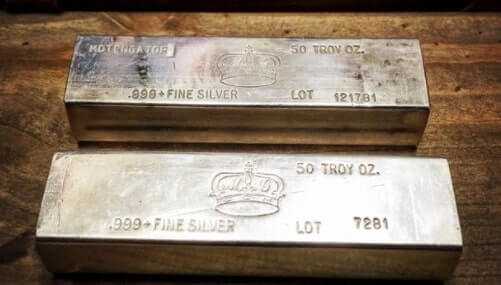 Two rare 50 oz California Crown bars.
Adding a CCM bar to a silver collection is a must for serious silver collectors. Good luck finding something affordable on eBay though!
6. PAMP Suisse Silver Bars
The PAMP Suisse Mint was founded in 1977 in Ticino, Switzerland, and it renowned for their premium quality precious metals. Their quality is so well trusted that they are the official distributer of almost all the legal tender bullion coins mints (Kruggerand, US Eagle, Maple Leaf, Chinese Panda, etc...)
Above: A video of a PAMP Suisse 5 oz. Premium silver bar.
PAMP Suisse Mint is famous for their beautiful 1 kg. silver bar that comes with an incredible buffed sheen making them look more than their weight in silver. Most collectors chase their Lady Fortuna 1 oz. bars along with their 1, 5, 10, and 25 gram bars.
While this company does not come with the old history of some of the other mints; they are certainly going to hold their premium well. Keep an eye out for their lunar series 1 oz. bars as well, which continue to appreciate in value and are already highly sought after.
Above: A video of the rare PAMP Suisse silver animal collection series
7. Perth Mint Silver Bars
Founded in 1899, the Perth Mint has made, and continues to produce high quality beautiful silver bars. From 1, 5, 10, 50, and 100 oz's, there is no shortage of designs, markings, and editions to add to every collector's silver bar collection.
Many rare Perth Mint silver bars come with extremely low mintages. Therefore, the premium makes them difficult for collectors. For an idea of how rare and low the mintages of some of these bars are check allendelhard.com for a compiled list.
The Perth Mint continues to make great bars to collect that will certainly appreciate in value like the currently produced 10 oz. poured bar in the video below. What's interesting is how much the company has evolved since the video compares an old Perth Mint silver bar with a modern silver bar.
Above: A video of an old and new 10 oz. Perth Mint poured silver bar.
8. SilverTowne Silver Bars
While their modern bars are mass produced and come with a low premium, the company has been around since the late 1940's and has built a solid reputation. Their logo written in cursive; with the "T" in SilverTowne representing a pickaxe makes them easily recognizable.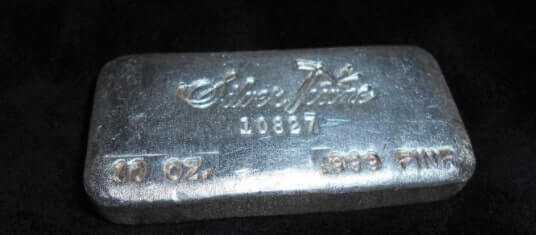 A vintage, rare SilverTowne 10 oz. silver bar.
They have a wide array of designs in 1 oz. sizes representing holidays, locations, and events. However, most collectors are after their rare and old hand poured bars. What many collector's love about SilverTowne Mint is that they are still producing a 10 oz. hand poured bar that is reasonably priced on their silvertowne.com. Unfortunately, they are usually sold out.
SilverTowne Mint is an easy way for new collectors to get old silver bars at reasonable prices so keep an eye out for them.
Above: A video or a rare 10 oz. SilverTowne silver bar.
9. A-Mark Precious Metals Mint
A-Mark Mint, founded in 1965, is famous for their highly collectible stacker bars. Their 10 oz. and 1 oz. bars are still easy enough to find on eBay, but the premium is continuing to rise. Silver stackers love collecting these 1 oz. A-Mark bars since they are fun to stack and play with and have a unique design all to their own.
Above: A video of vintage A-Mark stackable rare silver bars.
10. Geiger Silver Bars
Geiger is one of the highest premium silver bars you can purchase. Their mint located in Germany has been producing beautiful square bars for quite some time. While the premium and import fees turn most stackers off; they make for a nice bar with deep roots in German history.
Above: A video of a 100g Geiger cast bar.
Their modern bars come plastic sealed with an etched serial number, making them gorgeous and likely highly collectible in the decades to come.
Summary
Don't run to eBay or your local coin shop and buy every high premium bar mentioned above. However, now you are familiar with these silver bars and you might come across them at estate sales, auctions, garage sales or even places like kijiji.com and craigslist.com.
Investing in rare silver bars kills two birds with one stone. You are getting a quality precious metal with intrinsic value, and secondly you are getting a rare collectible that will appreciate in time!